Ultimate Aesthetics - Posted on February 11, 2021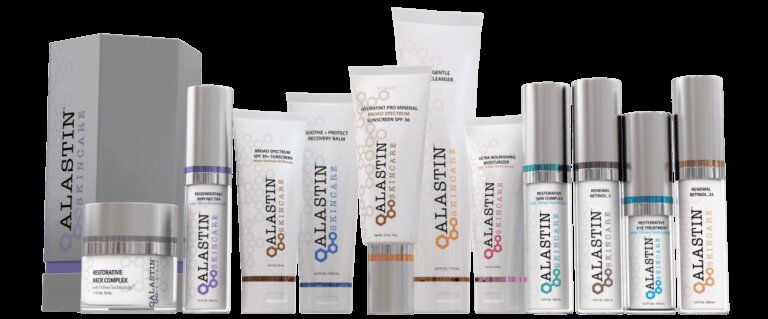 It's not uncommon for new skincare products to arrive on the market daily, but what is uncommon is when new skincare products actually do what they claim…and with unparalleled results! That's Alastin Skincare. It removes, rebuilds and replenishes the old collagen and elastin in the skin in a most remarkable way.
Our team at Ultimate Aesthetics, a division of Chuback Vein Center, strives to provide you with the latest and very best that the aesthetic industry has to offer, and Alastin's mission has always been to bring the highest levels of pharmaceutical science and innovation to the skincare industry. That's why we have decided to partner with Alastin and bring these groundbreaking products to our patients.
Specifically, we were inspired by Alastin's TriHex Technology®, a combination of peptides and active botanicals that support the skin's natural cleansing ability. These active ingredients foster the removal of damaged skin caused by aging and the environment. By making biological changes to the extracellular matrix – the space between the skin cells – Alastin is able to penetrate the skin where the old collagen and elastin reside and replenish them.
So, if you're considering Ultimate Aesthetics for an aesthetic treatment, you can be confident that your post-procedure recovery time will be accelerated and your overall outcome will be substantially enhanced by Alastin's exceptional skincare products at our Bergen County Vein Center.
And not only will Alastin provide a synergistic component to our aesthetic procedures, it is also unequalled for daily skin maintenance. If you want to address fine lines, sagging, redness, wrinkles and uneven tone, there's an Alastin product for every skincare need.
How we'll use Alastin's remarkable line of products
Botox and Dermal Fillers are some of our most sought-after procedures. It's exciting to know that now we can enhance your results with INhance Post-Injection Serum with TriHex Technology®. After your treatment, application of this remarkable serum accelerates the recovery of any post-injection bruising or swelling. The cooling tip provides a soothing effect, while absorption of the product supports the skin's natural production of elastin, collagen, and hyaluronic acid. By combining it with your Botox or Dermal Filler treatment, you'll effortlessly enhance your skin's overall quality and texture.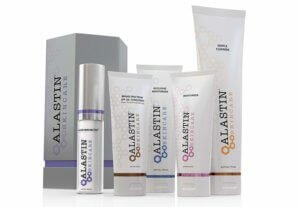 Restorative Eye Treatment with TriHex Technology®
is perfect for use independently, or in combination with your Botox and Dermal Filler appointment. This serum pairs perfectly with a bit of Botox to treat your crow's feet, or even after some Filler to treat that under-eye hollowness! It reduces the presence of fine lines and wrinkles, improves the appearance of puffiness, and even helps diminish the appearance of dark circles. How could we say no to that?!
How often have you tried on sunscreen and immediately regretted it because of how frequently you had to reapply or how oily it made your face look? Well, we're right there with you! That's why we're thrilled to share HydraTint Pro Mineral Broad Spectrum Sunscreen SPF 36 with our patients. This lightweight formula is water-resistant for up to 40 minutes, residue-free, AND can be applied daily to protect against broad-spectrum UVA and UVB rays. The universal tint even imparts a soft, healthy glow that you just can't get enough of! (It's my personal favorite!)
The side effects of aging are something nobody likes dealing with, especially us! That's why we searched for a product that would not only restore volume to plump up thinning skin, but would also improve the appearance of fine lines and wrinkles. Restorative Skin Complex with TriHex Technology® does exactly that! By supporting the skin's natural ability to regenerate, it helps even skin tone and protect the skin from future damage by unleashing its powerful antioxidants.
The Alastin Story
Well, if you're not impressed yet, we can share with you the other facts about Alastin that inspired our partnership with them.
Founding Alastin in 2015, President and CEO, Diane S. Goostree, has made it her personal mission to create a physician-dispensed skincare product line backed by science and innovation that is synergistic with pre- and post-aesthetic procedures such as dermal fillers. With 30 years of experience in the pharmaceutical and cosmeceutical industries, not to mention a degree in chemical engineering and expertise in navigating FDA approvals, she has been able to create a product line that significantly enhances patient outcomes and diminishes the after-effects of popular dermal-based procedures.
Alastin's financial numbers speak for themselves. Ranked number 85 Fastest Growing Company on Deloitte's 2020 Technology Fast 500, Alastin recorded 1305% in revenue growth between the period of 2016 and 2019. Like we said…remarkable!

Our team at Ultimate Aesthetics will always deliver on its promise to provide you with the 5-Star service and outcomes you deserve. Incorporating Alastin's products into our procedure protocols and providing opportunities for you to use them at home will foster a whole new experience with your anti-aging pursuits!
We hope that you're as excited as we are about the synergy of Alastin's products with our dermal treatments. I invite you to call today for a free consultation to discuss your concerns with facial wrinkles or volume loss. And, it's also a perfect time to discuss your plans to finally get rid of unwanted fat areas on your body. No matter what beauty and aesthetic goals you've been contemplating, it's never been a better time to jump in! The product technology will help you enjoy both faster healing and better overall outcomes.