Chuback Vein Center - Posted on November 19, 2020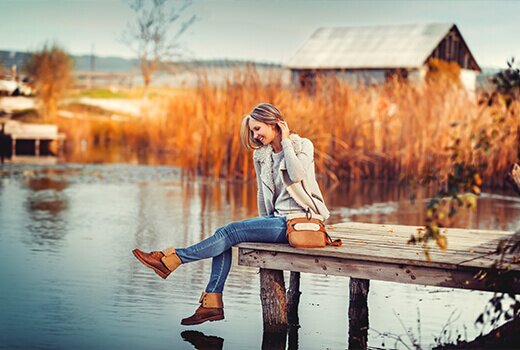 Perhaps you've spent this past summer covering your legs, avoiding the beach, or being too self-conscious to wear a dress to dinner. Little by little, you've noticed your legs feeling heavier and sprouting blue and bulging veins that are simply wreaking havoc on your once-attractive legs. Our age, heredity or lifestyle can leave some of us more vulnerable to this very unwelcome problem. In fact, every year millions of Americans discover that they have varicose veins. However, rest assured, there is something you can do about your vein issues, and this change of season is the very best time to get started!
First, knowing a little bit about why this is happening to you can help you understand the reasons for addressing it as soon as possible. Chronic Venous Insufficiency (CVI) is often the medical condition underlying vein problems. CVI causes pooling of blood in the lower legs due to a failure of the valves in your veins. These valves normally help direct blood back to the heart. As mentioned, heredity plays a significant part, but also, if your occupation requires a lot of standing (think hairdressers and teachers) or excessive sitting (the classic desk job), you have a greater chance for developing CVI. Common symptoms include feelings of achiness or heaviness in the legs, burning, throbbing, and muscle cramping. In addition, swelling in the lower legs, itchiness, and skin discoloration can also begin to occur. The negative impact these symptoms can have on your life can be significant, and it never helps to wait to get treatment because in most cases, these symptoms won't disappear on their own.
Now that the weather is cooling down, it is the perfect time to take advantage of vein treatment. The fall and winter months are indeed the most popular times in our office for Varicose Vein treatment, and here are a few reasons why:
1. Compression therapy and hot summer days aren't ideal.
During the course of vein treatment, often requiring several visits, it's recommended that patients wear special socks or stockings throughout the day and while at work. These garments have graded compression that promotes better circulation and helps during the healing phase. As fabric technology has greatly improved over the years, the styles and overall look of compression-wear have gotten better. However, hot days never foster the desire to wear compression hose, no matter what the look. With the arrival of Fall in New Jersey, these garments can more comfortably mingle with your fashion – or just be worn under your jeans. Crowds in the pumpkin patch will never be the wiser!
2. Less Sun Exposure is Better
Vein treatments that include sclerotherapy, a therapy that involves tiny injections of medicated solution to close off unhealthy veins, often renders better and quicker healing if the patient stays out of the sun. Sometimes sun exposure can lead to unwanted hyperpigmentation in these veiny areas, which to the eye, might make it seem like the healing process is taking a long time. So, to maximize your result and return your skin to the clear, vein-free state you've been waiting for – less sun is better.
3. Gorgeous Legs for Spring Break and Summer Vacations!
Treating your veins in the latter part of the year is advisable if you've got big plans for a tropical destination in the upcoming spring and summer. Achieving a vein-free appearance of your legs does require a bit of a time investment, the length of which is determined by the extent of your vein disease. Your series of treatments, followed by the healing process, could take from 3 – 6 months. But remember, as we sow, so shall we reap – and the gorgeous, healthy legs you'll reveal will be so worth the wait!
What Does Treatment Involve?
Here at Chuback Vein Center, a new patient's first visit to our Paramus Vein Center will be with me, Kristen Socha! I'm a Board-Certified physician's assistant, and I work directly with Dr. Chuback. During this consultation, we will discuss the symptoms you are experiencing and your medical history. Your next stop is our IAC certified facility, Chuback Vascular Imaging, where one of our professional ultrasound technologists will perform a venous ultrasound and measure the size and function of your veins. The results of this analysis will allow Dr. Chuback to determine your official medical diagnosis as well as a treatment plan. In our state-of-the-art center, Dr. Chuback offers several minimally invasive procedures that will treat your venous insufficiency without interfering significantly with your everyday lifestyle.
The best time for treating your veins is also the most popular time, so availability may be limited. Don't hesitate to call our office today to get your first appointment scheduled and your treatment rolling. The sooner you begin, the sooner you'll have your healthy, attractive legs back. We look forward to taking care of you this fall season!