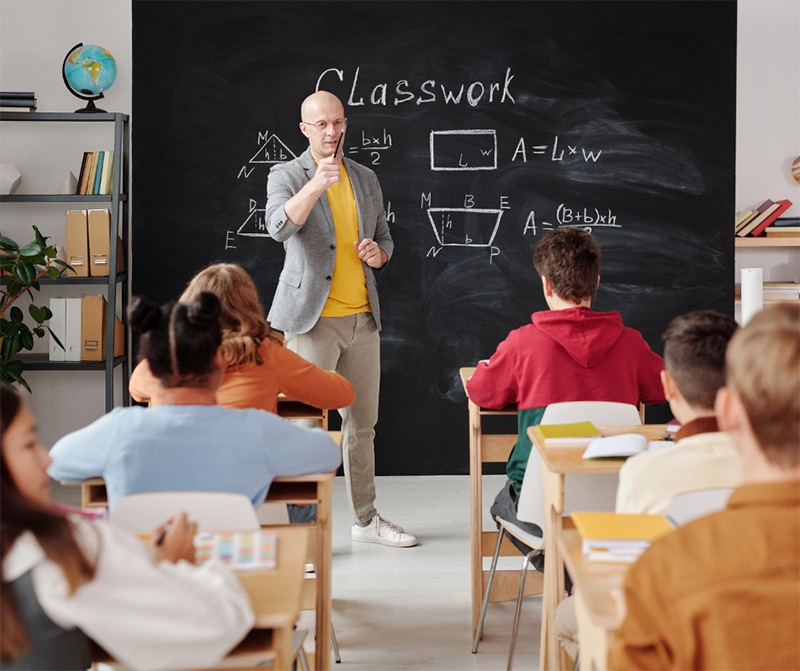 Chuback Vein Center - July 7, 2023
Work Lifestyle Factors of Teachers and Professors Can Put them at an Elevated Risk for Vascular Issue
Between standing at the lecture podium to sitting for hours to grade papers, it's no surprise that those in the teaching profession often suffer from chronic leg pain, swelling, and possibly varicose veins. Living with an untreated vascular problem might hold you back from looking and feeling your best or make it difficult to excel in your career. Seeking vein treatment when it's needed is essential, but first you need to understand the most common vein problems and their symptoms.
Why might teachers be more prone to vein issues than other professions?
Being an educator is a highly active profession, but it requires extended periods of sitting and standing. Standing in the classroom, lecturing, interacting with students, and writing on the whiteboard, teachers are always on the move. To compound matters, many teachers spend up to ten grueling hours at their desks without a break, creating lesson plans, answering emails, grading exams, or prepping for meetings. All that prolonged sitting and standing can put immense pressure on the legs, ultimately causing venous insufficiency.
What are the common vein problems that teachers experience?
Many educators go on to develop varicose and spider veins, whether they teach in-person or online. When the blood doesn't flow properly, it can seriously hinder your work performance and cause swollen veins, leg cramps, or mobility issues. Without proper vein treatment, venous problems can lead to blood clots, ulcerations, or other life-threatening complications.
What symptoms of vein issues should teachers watch out for?
Swelling in the lower extremities
Visible leg veins, possibly with a "ropey" appearance
Decreased mobility
Leg pain, itching, burning, or cramping
Skin discoloration and leg ulcers
How do we treat vein problems in teachers?
Chuback Vein Center specializes in state-of-the-art vein treatment for teachers and professors.
Sclerotherapy
When small veins no longer circulate blood properly, the blood can pool and cause bulging leg veins. Sclerotherapy treats venous insufficiency in the legs by injecting sclerosant medication into the vein to seal it and redirect blood flow to other nearby veins. The process is a quick and relatively painless spider vein treatment that eliminates unsightly purple leg veins in less than an hour.
Endovenous Laser Treatment (EVLT)
EVLT is a newer laser vein treatment that improves the appearance and discomfort associated with varicose veins. Navigated by ultrasound guidance, a catheter fitted with a tiny laser passes under the skin and fires short bursts of light energy to close the affected veins. This minimally invasive procedure takes less than 60 minutes and only requires local anesthesia, allowing teachers to return to the classroom, often on the same day.
Ambulatory Microphlebectomy
Treating small leg veins without a lengthy downtime is possible with ambulatory microphlebectomy. This quick procedure removes the faulty veins, prompting the body to reroute blood to healthier veins nearby. It's called 'ambulatory' since our patients can resume walking almost immediately after receiving the vein treatment, making it ideal for teachers that can't afford to take days off of work.
Ultrasound Guided and Visual Sclerotherapy
Colorful spider veins (telangiectasia) are often clearly visible if they lie just beneath the skin's surface. A visual examination may be all that is needed to detect and treat spider veins with sclerosant injections. Yet sometimes, dilated veins are hidden deep down, causing aching, cramping, and leg pain at night. In these cases, our vein specialists rely on ultrasound guidance to quickly and accurately map out the damaged veins using a transducer and water-based jelly applied to the skin. Once detected, a sclerosant solution can be injected into the vein to close it off and redirect blood flow. Benefits include fast, virtually painless varicose leg vein treatments, no risk of radiation exposure, and zero downtime.
Get Your Vein Health Back on Track Today
To thrive in your teaching career, you need to look and feel your best every day. Discover lasting relief for chronic pain, venous insufficiency, and visible leg veins with the board-certified certified surgeons, physician assistants, and cardiovascular experts at Chuback Vein Center. We offer a full range of innovative vein treatments and diagnostic imaging under one roof. Consider it your one-stop shop for vein health!