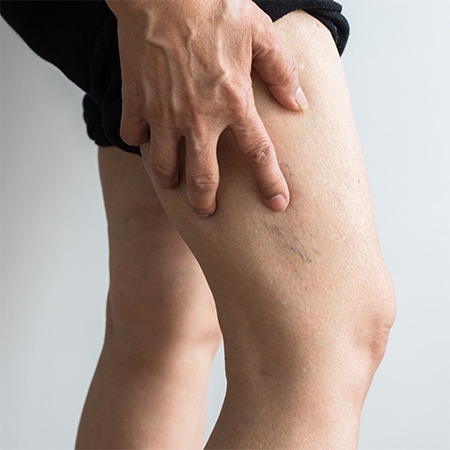 Chuback Vein Center - Posted on June 7, 2023
Vein health is often mistakenly associated with being primarily a concern for women. However, this does not mean men are exempt from being impacted by vein-related conditions.
From varicose veins to deep vein thrombosis, understanding vein health is crucial for men of all ages.
In this blog post we are shedding light on the importance of vein health in men and debunking common myths.
Myth #1: Vein issues only affect women
While it's true that women are more prone to certain vein conditions due to hormonal factors, men are by no means exempt from experiencing vein problems. In fact, studies have shown that men account for nearly 45% of all varicose vein cases. Factors such as genetics, obesity, age, and occupational hazards can increase the risk of vein issues in men. It's vital for men to pay attention to their vein health and seek appropriate treatment when necessary.
Myth #2: Varicose veins are purely cosmetic
Varicose veins are not merely a cosmetic concern. Although they may appear as bulging, twisted veins under the skin, they can cause discomfort,aching sensations and pain. If left untreated, varicose veins can lead to more severe complications, such as blood clots, skin ulcers, and deep vein thrombosis (DVT).
Myth #3: Only older men are at risk of vein issues
While age is considered a contributing factor to vein problems, younger men are not immune. The truth is that lifestyle factors can significantly impact the prevalence and risk factors for vein issues in younger individuals. Obesity, a sedentary lifestyle, occupations involving prolonged sitting or standing, and a family history of vein disease can elevate the chances of developing vein-related conditions. Being aware of these risk factors can help men take preventive measures to maintain their vein health.
Myth #4: Exercise worsens vein issues
Regular physical activity is one of the best ways to promote vein health in men. Exercise helps improve circulation, strengthen muscles, and prevent blood pooling in the veins. Walking, jogging, swimming, or cycling can help reduce the risk of vein-related conditions. However, it's essential to strike a balance and avoid high-impact exercises that may place a strain on the veins, especially in individuals already experiencing vascular problems. Consulting a vein specialist is the best course of action if you're in doubt about your workout routine.
Myth #5: Vein treatment is invasive and painful
Modern advancements in medical technology have revolutionized vein treatment options, making them less invasive and more effective than ever before. Procedures such as endovenous laser treatment (EVLT) and sclerotherapy offer minimally invasive solutions for addressing varicose veins and other vein conditions. These treatments are generally well-tolerated and involve minimal discomfort and downtime.
At Chuback Vein Center, we specialize in providing state-of-the-art vein treatments that are minimally invasive and yield excellent results. If you're experiencing vein-related issues, we invite you to schedule a consultation with us. Our team of highly skilled vein specialists will guide you through the process, helping you choose the most suitable treatment plan for you.
Don't let the fear of invasive procedures hold you back from seeking the care you deserve.
Contact us today and take the first step towards healthier veins.